Several weeks ago, I celebrated a birthday, turning 34! Even greater, I'm celebrating 6 years of loving what I do!
In celebration of my birthday, I thought this was a great time to do a recap of what I have accomplished in the past year from my 40 Before 40 Bucket List
6 years ago I decided to take a chance and started Discovereighng with Dana Travel! 3 years at the end of July, I took an even bigger chance, and decided to leave my full time job to devote myself to all 3 of my babies—Holden, Heidi AND travel!

It has been tough at times (I mean the past 18 months have been no joke), but I have learned SO much about myself and life.

I am constantly working to improve balance in life—which was much needed being that I was booking trips for clients within hours of giving birth!

I'm always learning new things about the world—the biggest, truly realizing that we are all innately the same.

I am steadily falling more in love with not only the world, but MY life—I have never felt happier or more fulfilled!
Writing down my goals and marking them off when they are done has been a huge factor in me staying on track with all that I want to accomplish. That includes my 40 Before 40 list! You can read about the whole list and the why here.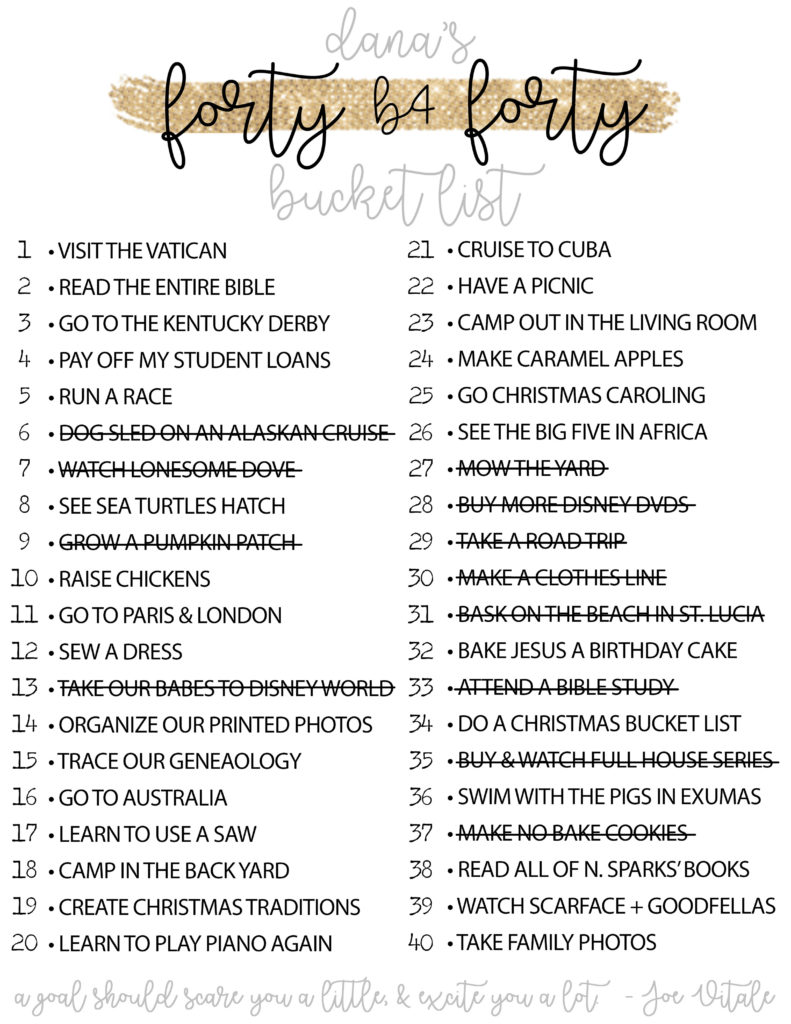 So, in celebration of my birthday, I thought this was a great time to do a recap of what I have accomplished in the past year from my 40 Before 40 Bucket List (actually, the last 2 since I failed to do an update last year. Whoops!). Here is a look at what I've marked off the list in years 32 and 33 of life!
#13 Take Our Babes to Disney World | Earlier this year, we went to Disney World! Our twins were on the verge of turning 3, so we squeezed in a trip before it cost to buy them a ticket (2 and under are free at Walt Disney World). It was a HARD trip, but oh my goodness it was SO worth it! We had the absolute best time, and even though it was over 6 months ago, the kids still talk about it and ask to go back. Soon, babes! Soon!
#27 Mow the Yard | Back in July, I mowed the lawn for the first time in my life! Growing up with brothers, it wasn't something that I had to help with. But all of my girlfriends seem to enjoy mowing, so I have always wanted to try it. So while Lovely was out working in the yard, I decided to help! I started with push mowing our immediate back yard and part of the front. Then moved on to mowing the rest of the back yard on the zero-turn mower. Y'all, it was fun, especially on that zero turn! Ha!
#28 Buy More Disney DVDs | For one of the kids' birthdays we asked for Disney DVDs, so we have grown quite the collection! And then we finally got into Disney+, what a gift! We still love our cherished DVDs, but Disney+ is the bomb!
#29 Take a Road Trip | Summer of 2020, we rented a Suburban, loaded up the kids, and headed West! We mapped out an epic road trip covering stops in Rocky Mountain, Grand Teton, and Yellowstone National Parks. We had THE best time on the 10-day trip covering thousands of miles. It is a trip we will never forget and would love to do again!
#30 Make a Clothesline | Living in the South and in the country, I have always wanted a clothesline. Charlie happened upon the perfect posts, and made it happen! I love it for blankets and sheets. There's just something dreamy about seeing them blow in the wind in the Spring and Fall.
#31 Bask on the Beach in St. Lucia | This summer I was blessed enough to visit the island of St. Lucia TWICE! The first visit was for a travel advisor trip where we toured resorts, took meticulous notes, and learned all about the island. Then the following month, Lovely and I experienced a twice rescheduled vacation to the island. It was a much needed trip with just the two of us, and we loved taking part in a couple of experiences—ziplining and a French Creole cooking class!
6 more years to accomplish the rest. Can't wait to see what all I can do in that time!
Here is a great article on the importance of writing down your goals. Have you tried it? Do you think it keeps you more productive? Share your thoughts in the comments!